Reading – Mark 10:21
…Jesus, looking at him, loved him…
Nothing is hidden to God—He sees everything; He is omniscient, which means, of course, that God sees even the sins we have successfully hidden from everyone else. How do you feel about that? It is a bit awkward to say the least isn't it? Yes, we might think that, but really, we should be delighted, because our all-seeing God is also the one who loves us more than any other. Yes, He sees our sin and it hurts Him, so we need to come to Him, repentant and asking for forgiveness, but in seeing everything, He is pleased when He sees signs of obedience and responses to His love in us.
Today's reading gives us a great picture of this in practice. As the rich young man reels off his long list of the good things he does, Jesus looks at him only the He can, He looks with amazing love. He tells the man that he is on the right track doing a good job, that spiritually, he's getting there. Then his searching gaze rests on the one thing that is holding this man back: his love for all the things he has, and he has a lot… Jesus tells him a difficult truth, that only by giving away the thing he loves more than Jesus will he find true freedom.
It seems this rich young man sees the truth of Jesus' diagnosis but gives the impression that he is unwilling to do anything about it. So he turns away sad.
Does he ever respond? That we do not know, but we do know that Jesus' words hit the mark and so it's possible that he after all became one of the first believers.
We can do nothing to make others respond to the truth, but when it comes to ourselves, we can do everything that is needed to respond to Jesus.
Reflect: As you spend a quiet time with Jesus in prayer today, thank Him that He looks on you with love.
Act: First Ask Jesus to show you all that is obedient and good in you. He knows how hard you try to follow His way; He hears, remembers and answers every prayer that you have ever prayed to Him. He feels everything that hurts in your body and your spirit. Now let him show you how precious you are to Him.
Next take another step. Ask Jesus put his finger on one thing you may love more than Him—one thing that may be holding you back. Perhaps its money or belongings like the rich young man. Perhaps you are trapped in a persistent sin, or perhaps you are holding a grudge that you are having a hard time letting go of. Ask Jesus, as He shows you these things, to take your hand, stay close and help you beat them in His power, in His strength; let go of them, take hold of Jesus and let Him, who loves you, encourage you and show you the way of healing and moving forward that He is providing for you.
Children's Prayer Activity
Sometimes we need to say sorry in our prayer time –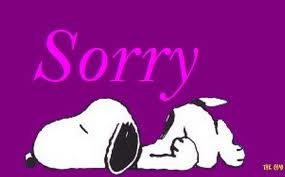 Be quiet for a few moments today and think if you have made someone sad or angry.
Ask God to help you not to do it again.